Morton, Denise

  morton-denise1@aramark.com

to 

JMA

, 

David

, 

jhafner

, 

Neil

Dear Joe;

Thank you for the update regarding your conference. I was really interested in getting to know you and your group of scientists.

I can certainly understand that an additional  conference might conflict or reduce your attendance for your conference in England.

So yes, please do keep us in mind in the event you decide to hold a conference in the future. I would love to work with you

in the future. Take care.

Denise Morton | Aramark | Sr. Sales Manager| Asilomar Conference Grounds

800 Asilomar Ave. Pacific Grove CA. 93950

P: 831.642.4220  F: 831.642.4262

From: JMA [mailto:joematto14@gmail.com]
Sent: Monday, March 05, 2018 7:35 AM
To: Morton, Denise <morton-denise1@aramark.com>
Cc: David W. Johnson <dj@argos.vu>; jhafner <jhafner@swcp.com>; Neil Thompson <krackonis@gmail.com>
Subject: Electric Universe Symposium

Hi Denise,

Thanks for all you effort helping us with our conference planning…..But, unfortunately…..the Planning Group could not come to consensus on either a specific venue or whether it should happen at all this year…..given that there will be another 2nd conference earlier in the year in England.……and so we are passing on the idea of the conference at Asilomar at this time.

We will of course keep Asilomar in mind should interest re-kindle in the future.

Again….Many Thanks for your assistance exploring the possibility!

Joe

————————————————————————————

From David – Transcription of Joe's Draft:

September 6th, 7th & 8th, 2018 plus post conference field trips

The Electric Universe Global Alliance presents

Cali-EUGA 2018

Asilomar Conference Center

Pacific Grove, California

Hosted by:

Neil Thompson

Organized by:

Joseph Matto

Jean Hafner

David Johnson

Jim Weninger

Overview and Personal Statement

The Electric Universe Global Alliance is an emerging advocacy group supporting the work of the Thunderbolts Project and the theories and philosophies of the Electric Universe© in its broadest interpretation as it applies to all disciplines and interrelated fields of knowledge.

The Electric Universe Global Alliance is an emerging advocacy network supporting the ideas of the Electric Universe as it applies to all disciplines and interrelated fields of inquiry.

We are Engineers, Scientists, Astronomers, Mythologists, Healers, Doctors, Historians, Cosmologists, Astronomers, Archeologists, Archaeo-astronomers, Geologists, Biologists, Climatologists, Architects, Teachers, Poets, Artists, Musicians, Geometers, Humanitarians, Physicists, Alchemical Metaphysicists, Researchers and supporters of all types who seek to discover, explore and reveal the true nature of the cosmos.

We are Astronomers, Builders, Cosmologists, Doctors, Engineers, Faculty Members, Geologists, Humanitarians, Illustrators, Jump-Starters, Kineticists, Lab-Techs, Metallurgists, Neurologists, Obstetricians, Painters, Quarry Workers, Riveters, Scientists, Teachers, Underwater-Explorers, Voltage-Testers, Wind Watchers, X Ray Technicians, Yoga Instructors and Zoologists. (I know it's stretch J)

We intend to provide wider dissemination and acknowledgement of the Electric Universe as a accepted foundation of scientific theory and inquiry. Within this context, we also seek to further illuminate the ancient origins of humanity. We celebrate the dawning this new awareness, seeking truth in recovery from ages of catastrophically induced cultural amnesia, as recorded in the world's histories and mythologies.

Each Year in the recent past the EU Conferences have promoted a theme: The Tipping Point, A Matter of Evidence, The Paths of Discovery, Elegant Simplicity, Future Science. And each year it becomes more and more apparent there is a sea-change in scientific discourse underway. A paradigm shift of staggering proportion that challenges us to re-think EVERYTHING we have ever been taught. A scientific revolution is afoot and gaining momentum with each new announcement of a bewildered NASA scientists pondering the most recent unexpected data from a deep space probe.

During this time a seedling has peeked through the cracks of a brittle, crumbling and failing academic orthodoxy. Some of the most fundamental tenants of main stream science lose their credibility in the face of the Electric Universe Model. From the Big Bang to Black Holes, Dark Matter to Dark Energy, even the currently accepted notions of the interior constitution of the planets, all fail under scrutiny. A coherent working model based on empirical observations within the context of the Electric Universe clearly provides a more honest and solid framework to base future scientific inquiry.

The EU theories and the predictions of EU's resident science theoretician, Wal Thornhill are affirmed daily by an increasing stream of scientific data from satellites, probes and advanced telescopes. The corroborating evidence can be found on the NASA, JAXA and SPACENEWS websites along with a plethora of other sources.

England and the New Enlightenment

This year many of the EU's core members and contributors will be heading to Bath, England. In many ways the symbolic center of academia's orthodoxy and the 15th century birthplace of the original "Enlightenment". It is fitting given the venue this year that the EU theme would be "The New Enlightenment".

A Need for a Second Conference in the States

I was delighted to feel so connected and in tune with the EU community when I got word of the British venue a couple of months ago. Yet I also felt like there was an emptiness in all this, something was missing. There would be a gap in the continuity of my own research and explorations that had taken me from the sweet lush green foothills of Northwestern Connecticut to the raw red-rocks of Arizona and Utah under the big dome skies of the Southwest. I soon discovered that others whom I had met and befriended at the EU 2017 conference were feeling the same way. It was clear that even if some of us had the resources and were planning on attending the conference in England there was a sense of discontinuity and a break in the momentum among EU supporters in North America.

This feeling was initially articulated to me by David Johnson who ran one of the breakout sessions last year. His work focuses on interactive simulation of physical phenomena using VR. David's work complemented Jim Weninger's models of the Birkeland current nature of the solar systems pathway through the local interstellar cloud. All this appealed to my interest in the geometry of self organizing morphologies especially those of force-fields over time.

I then wondered about all the amazing folks I had met like Don and Anise Scott, Susan Shirott, Gerald Pollack, David Talbot, Ev Cochrane, all of whom are based here in North America mostly out west. David and I were fortunate to share dinner with Bill Mullen and attempted to keep up with his brilliant mind on the last night of the conference. We miss him very much. As David and I reminisced and discussed our concerns, he also reached out to others, and then we realized that something natural and organic was happening. Before long we were a group of EU supporters meeting weekly by Skype tele-conferencing the ideas and controversies we were interested in and sharing with each other various reports and pieces of information as they were released, either from Thunderbolts, SpaceNews or from other sources of information now proliferating the internet.

So for the last several months David has been hosting conference calls twice weekly with an increasing number of past EU supporters and contributors calling in, some of whom are not sure whether they can attend or be involved in the EU 2018 British conference. And then I realized it was inevitable, that to fill the void and address the increasing need for an ongoing platform for the exchange of ideas, we would need to organize a second EU conference, right here in the states. As the idea found traction we all agreed it should be similar in format to previous ones. Perhaps it should be a little less ambitious in light of the fact that there would be two conferences in one year and that we would be doing this for the first time.

OPEN INVITATION

EU Alliance 2017 – Appeal to the EU Community for Speakers and Contributors!

We are still in the early planning stages of EU Alliance-2018 but we invite any and all past participants of the EU Conferences, or those from other related venues and gatherings of a similar nature and caliber, to contact us. We are building an email list of individuals interested in participating in the planning, coordinating or contributing to a conference here in the states.

We have identified one amazing and beautiful venue suggested by Jean Hafner. The Asilomar Conference Center, in Pacific Grove, California appears to be a great location to hold the conference. In addition, we are just now fleshing out a roster of speakers, inviting contributors, thinking about Keynote Speakers and are open to suggestions, recommendations, or nominations of who these people might be. The time-frame is set for the fall of this year, September 6th, 7th, and 8th 2018.

Skype and Aussie!

More than likely some very important contributors from Australia and other areas "down under" will not be able to make the long trip. For this reason we are planning a special Global Skype Interconnect Seminar or GSIS. Hopefully we will be able to arrange to meetup with Wal Thornhill, Steven Cruthers. Peter Mungo Jupp and others virtually in session during the conference.

Field Trips

After the EU 2017 Conference I visited Sedona and was at the Chapel of the Cross during the Eclipse. Even the locals living in this land of the vortices exclaimed they "Felt really spinny" that day! From there I made my way to the Grand Canyon for the first time flying over to examine its features and then on to seek petroglyphs and other unusual geological formations in Utah. During one of the recent Skype Conferences. I shared this story only to discover that Neil Thompson had done the exact same trip paralleling my adventure! This made me realize that we should perhaps plan some extended post conference expeditions or at least provide a means for those interested to link up with each other while at the conference.

Fake Science

From the misunderstood process behind the observed red-shift, in a world that deifies chalk-board mathematics arose an unholy menagerie of complicated fantasies, from Big Bangs, Black Holes, Dark Matter, Dark Energy, Expanding Space/Time, to many other imagined beast borne of ill-informed logic and faulty rationalism.

Fake Science continues to be taught in all schools and universities throughout the world!!

The Tipping Point has been crossed and Future Science has arrived. But the work has just begun. We are confronted with a staggering proposition that must be acknowledged, that the Universe in every way, at every scale, across the vastness of the furthest reaches of space, spanning all of time, past present and future is fundamentally and singularly Electrical in Nature. Yet for the most part we are as a species ignorant of this fact and on the edge of environmental disaster a global breakdown in part because we are still employing technologies based on a science that does NOT recognize the primacy of Electrical Forces. It is our mission to encourage, support and disseminate the new theories and the work of all groups and individuals engaged in these studies toward a greater understanding of the Electric Universe and our place and interconnection with it.

Towards a New Enlightenment !

Joseph Matto, AIA

Connecticut Feb, 2018

————————————————————————————

From Jean: 2/16

Hi guys,

I had been concerned that Asilomar was going to be unresponsive, based on our earlier experiences. I still wanted my questions answered. Fortunately, the eco-farm.org folks, who have had huge conferences there for years, love it, as they told me. They were surprised we'd had trouble getting contact, & gave the main sales number.

Main sales number is 831-642-4222 … I got someone, so I asked for Denise. She and I had a nice conversation. She is the one working on our plan with Joe. I confirmed that the names "electric cosmos" and "electric universe" both refer to us. She wanted to know, "Just what is it you all do?" I went into some non-threatening topics – nebulae, bioelectricity, EU geology. She was definitely interested – b/c of all the global warming hype, and we talked for some time.

As regards our group and plan, I said I just wanted to ask some questions, that we were a group of five, and that I'd not be making any changes – just getting info. I told here I'd verify anything substantial with Joe and the group.

1. Dates

Late August (not sure the dates) – We are penciled in.

I told her we were currently thinking September. The price would be slightly lower, she said.

Sep 7, 8, 9 – This is the most freely available weekend for Asilomar. It's the weekend after Labor Day. How are you all with this? I'd have to miss an event here in NM, but I won't miss the associated field trips, so it's not a deal.
Sep 14, 15, 16 – This is on Joe's latest poster. It is available at Asilomar, yes, but will require her to move the chess pieces; in other words, move another group to a different space. I don't think that's too big a problem.
Later Sep weekends not as good for Asilomar.

What do you think? We would need to let Denise know. She's expecting an email or call.

2. Meeting Rooms and Package Deals

Denise explained how this works. Merrill, as with the other meeting rooms, she said, is not rentable by itself for the price on the planner's guide. Everything depends on # of sleeping rooms. Large groups committing to 70 or more sleeping rooms can use Merrill. She is working off the assumption for us where we estimate 30 sleeping rooms for two-night Fri-Sat overnight stay.

Because ours is a group with the potential for growth, certain meeting spaces lend themselves well to that idea and others less so. She likes Fred Farr for us. See attached photo. Kiln, a large room next door would work for posters or a second large space for a speaker. There are living rooms in the area that we can use for small breakouts of ~10 people. There are other possible meeting room configurations, her other groups may cancel, etc.

3. Food

Included in the package deal (assuming two nights, Fri-Sat):
Fri dinner
Sat breakfast
Sat break
Sat lunch
Sat break
Sat dinner
Sun breakfast
Sun lunch

Extras: s'mores on the beach, enhanced dinner.

Quality of food: everything I see says their food is exceptional, fresh, Cal style. Eco farms brings in their own food, which the chef prepares into dishes. I only offer this to show how creative they can be with food, not that I'm suggesting any such thing.

4. How people book sleeping rooms. Two ways:
a) We handle the room assignments and rooms get charged to the master; we supply a list for Asilomar; we arrange any room shares;
b) People book their own online and pay for their room at the group rate.

We'd have to consider this. Maybe a combination would be good – book the rooms for headliners and so on, and let the rest be worked out by the participants. It's nice to have someone act as room coordinator, and that can happen by simply connecting people who make that request via email. Maybe there is a better way.

5. How much
I want to verify that I have it right first – Joe? Denise said $380 or so – is that the total? Want to compare it with Sheraton Mesa. From what I read, their prices are very reasonable since it's a Cal State Park.

Cali or bust,

Jean 🙂

 From Jean: 2/16

Neil,

Oh..sure. Well, there are scads and scads of different extensions, most quite cheap. If you haven't done this, go to Name.com to play around. You'll see what I mean.

The problem is that when people type in a name into the box in a browser, they will be highly unlikely to guess something with a rare extension, and are likely to end up in the wrong place. Thunderbolts.info confused me early on, for example. I assumed it was .org, which it wasn't, and .com didn't work.

I've also learned that certain servers are responsible for different extensions. That made me wonder if the rare types get reliable service, or are they down more often.

And I was thinking that a lot of people are concerned about efficiency – doing what you can to save the world. I had a young colleague whose name was Enright. And he juggled. So his email was jugglenright@ _____. For brevity's sake, he omitted one "e." He thought it was clever – and he was a brilliant dude – but this tiny glitch drove me nuts, not only when he recited it the first time, but every time I saw it or used it.

You know the expression, "Once I knew I was insane, I felt much better." This statement certainly applies to me!

🙂 Jean

——————————————————-

from Neil

I was just thinking it may be cheaper 🙂 I was not considering anything else. It just seemed some of those were expensive.

——————————————————-

Hi again,

Neil, I would not condone deliberately confusing people. There's a link between wrongly-assumed meanings of homonyms and insanity. Kids and people whose language is not English are especially prone to confusion. If we use "CA," and mean "California," there should not be a double meaning referring to Canada.

Consider an example:

Adult says, "Our puppy will need to be re-trained." Kid thinks it refers the dog being put back on the physical train, assumes puppy will be going somewhere, gets anxious. Adult has no clue why the kid is anxious. The concept "to train" and "to re-train" is too abstract for the kid – or there has been no clarification yet.

L. Ron Hubbard described a similar case and the word "train" was the culprit for a case of bed-wetting. Once cleared up, the condition ended.

This was a useful exercise for me, actually, when considering the dilemma, "Who are we?" So, thanks…

/Jean

——————————————————

From Neil

How about .ca ? 😛 Canada/California? Whats the difference? 😛

Neil

PS LOVE the Denise email.

——————————————————-

Morning musings…………

Don't forget your dosimeters at Asilomar!

Nuclear Detonation TimeLapse

Oppenheimer Reflects & Quotes the Bhagavad-Gita and refers to Mahabharata

Oppenheimer Reflects & Quotes the Bhagavad-Gita and refers to Mahabharata


In the war of kurukshetra

Google Talk – Michael Cremo – Knowledge Filtration in Academia – 250,000 year old site ignored….. discovered by Geologist Virginia Steen-McIntyre – Hueyatlaco, Mexico

Interesting Synchronicity – Ken Wheeler Talking about Academia and the Kali-Yuga ala Rupert Sheldrake

(Uncle Fester Warning btw)

From Jim:

I'm becoming quite a fan of Joe lately. I'd like a little more of his "unfiltered" ideas, if he would like to share.
Sent from my iPhone

From Jean:

ROTFL – Joe that one must have made you momentarily levitate!

Cali-Euga!  A Model T Ford? A donkey?

Since you're in creative mode, I did some searching for available domain names lately, and for trademarks. These are all available as .com for $8.99. Notice I wasn't trying to name an organization, necessarily:

EUexplorers
EUwildwest
EUnextgen
EUgoldrush
EU2018USA or EU2018US
EU2018CA or EU2918Cal
EUamericanalliance

eualliance.com  – $46,000

EUAA.com – $58,000

euga.com or euga.org – not available

Dot org's are supposed to be nonprofits. Dot net's are pretty common. Other extensions are potentially going to be hard to find when people start typing in their guesses.

I've done some tradename searches, too, but they can be tricky, so I'm finding out.

🙂 Jean

——————————————————————–

 From David:

Just ran into this – didn't see it earlier.

Hilarious! Kinda into it.

Gotta run it by Jim.

🙂

/dj

Been looking at this stuff for some reason: Did you know that inertia effects dielectric polarization?

​

On Thu, Feb 15, 2018 at 5:23 AM, JMP <joematto14@gmail.com> wrote:

Good morning David,

I always have these out of the box creative moments in the morning….sometimes silly.

But I thought that….

EUGA – Electric Universe Global Alliance had a nice ring to it (like a hollow Earth)…..and actually was descriptive of the makeup of the group…the ALLIANCE….

and then I thought, huh……its happening in CALIfornia…….why not….?

Too much, right?

---

---

On Tue, Feb 6, 2018 at 1:34 PM, JMP <joematto14@gmail.com> wrote:

Hi David…..

Good meeting last night.

In response to Neal's concerns I re-thought the name…..Here is another go at it.

Also in response to Jean's concerns….the name is an available web domain…..ECIS.International

Electric Cosmos Interdisciplinary Society is also available as an LLC.

I thought about organizing categories that invoke the Earth, Air, Fire Water, and Plasma as a new state of matter….and assigning speakers accordingly….not sure if it works or is useful but interesting.

Also……maybe you can give me some words to better describe what you want to do in the breakout room.

If this is a total flop I am not worried….the costs of the conference space are reasonable and if needed can be covered.

By the way…..did you know Neal was the Scholar Award Recipient last year? I guess that it takes to get him there from New Brunswick!

Talk to you later!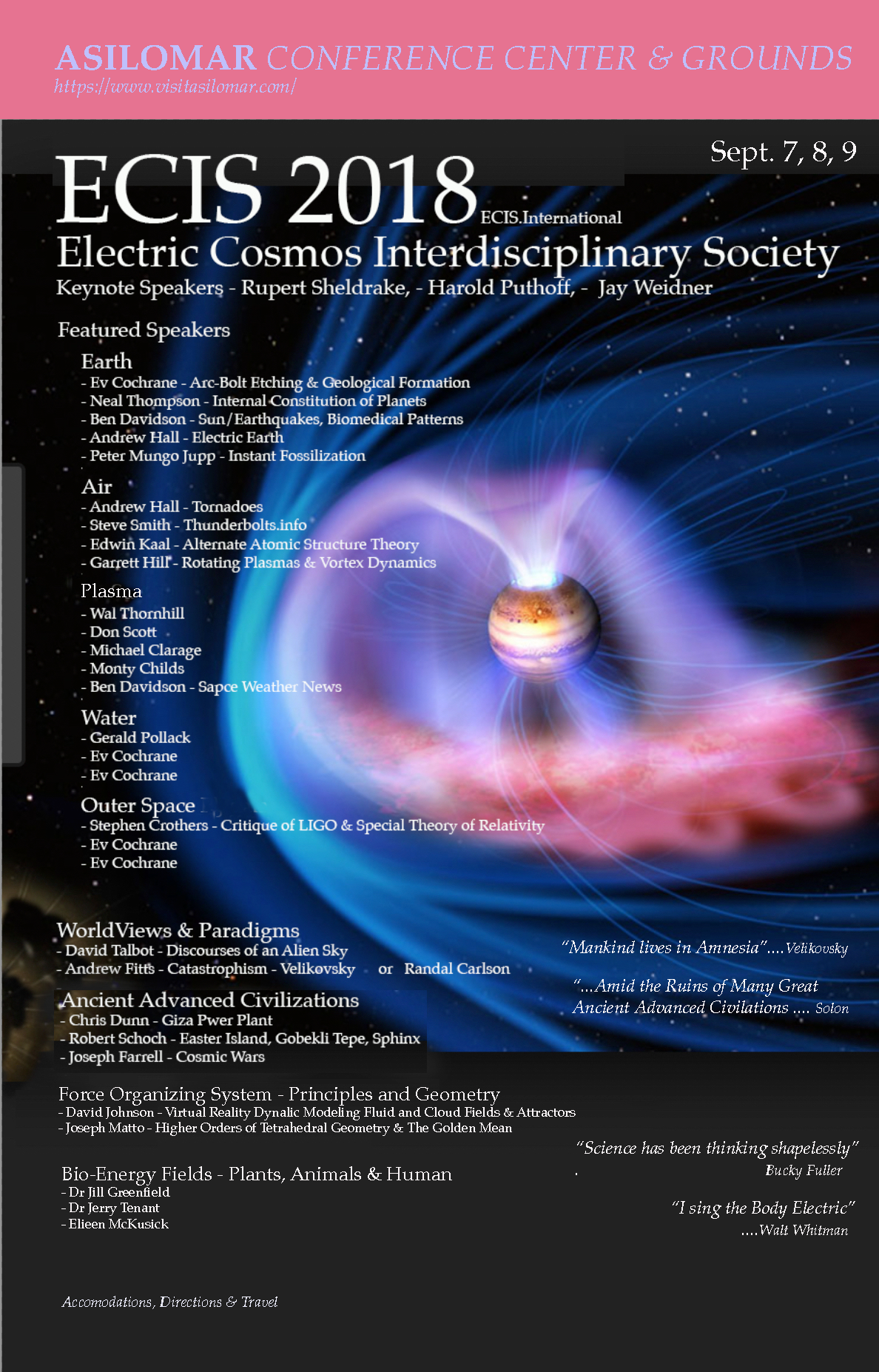 Nice,

Lovin' it!

Just finished out 

meetup

. Andrew Hall joined us. He was great. The meeting tone seems to be settling into a comfortable group personality.  Got to tour around the sites Andrew has been writing about via Google Maps in quite some detail. Lot of discussion about the potential analysis of material transmutation in samples from the site. Robert Hawthorne, Edo, Buddy, Neil and Jake joined in as well.

His site:

 

Everyone seemed to enjoy it quite a bit. Let me know if you have the opportunity to talk at some point. Would love to discuss.

In reference to Plasma as a potential theme – I did a test tweak of your Poster just to see how it would look with PDIC. It may be that using plasma as a term with cosmic imagery/atomic imagery/fractal imagery may keep the strong association with the 

EU

 as well as creating our own persona 🙂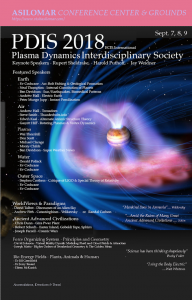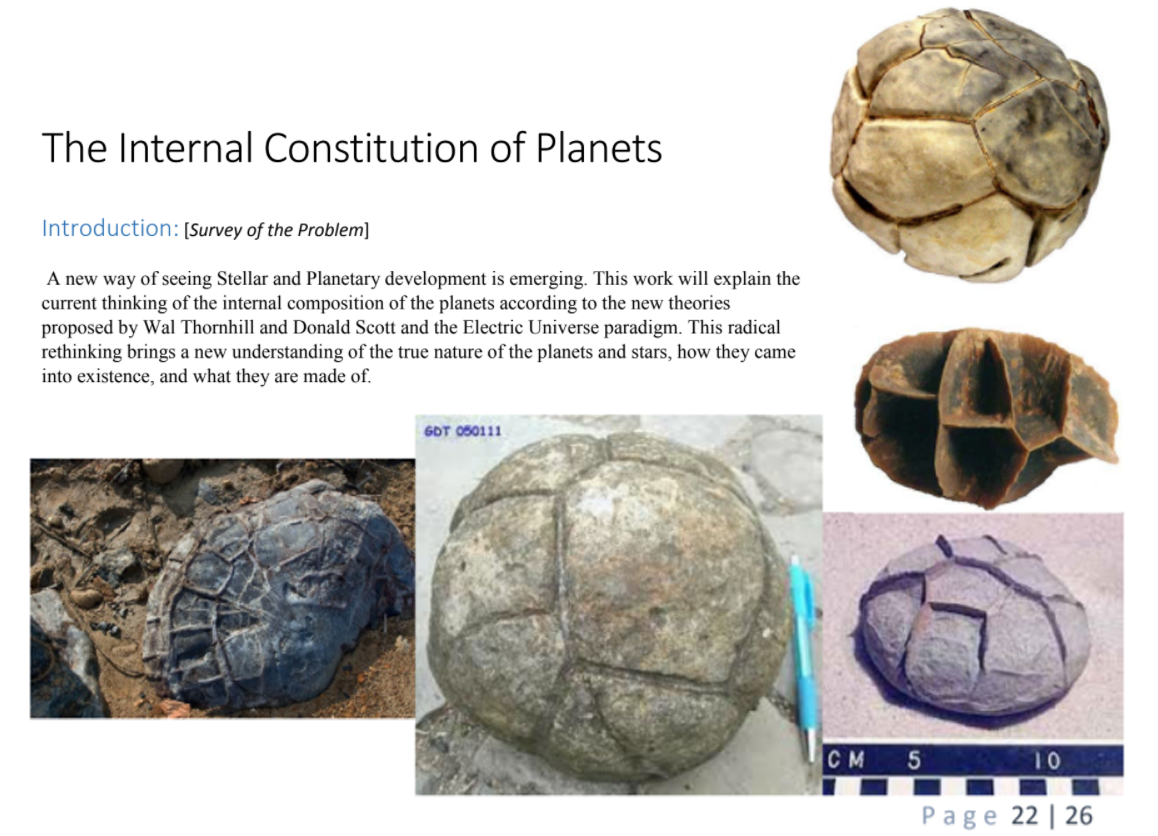 Asilomar Conference Ideas – Meetup – Monday Feb 5th
1 message
---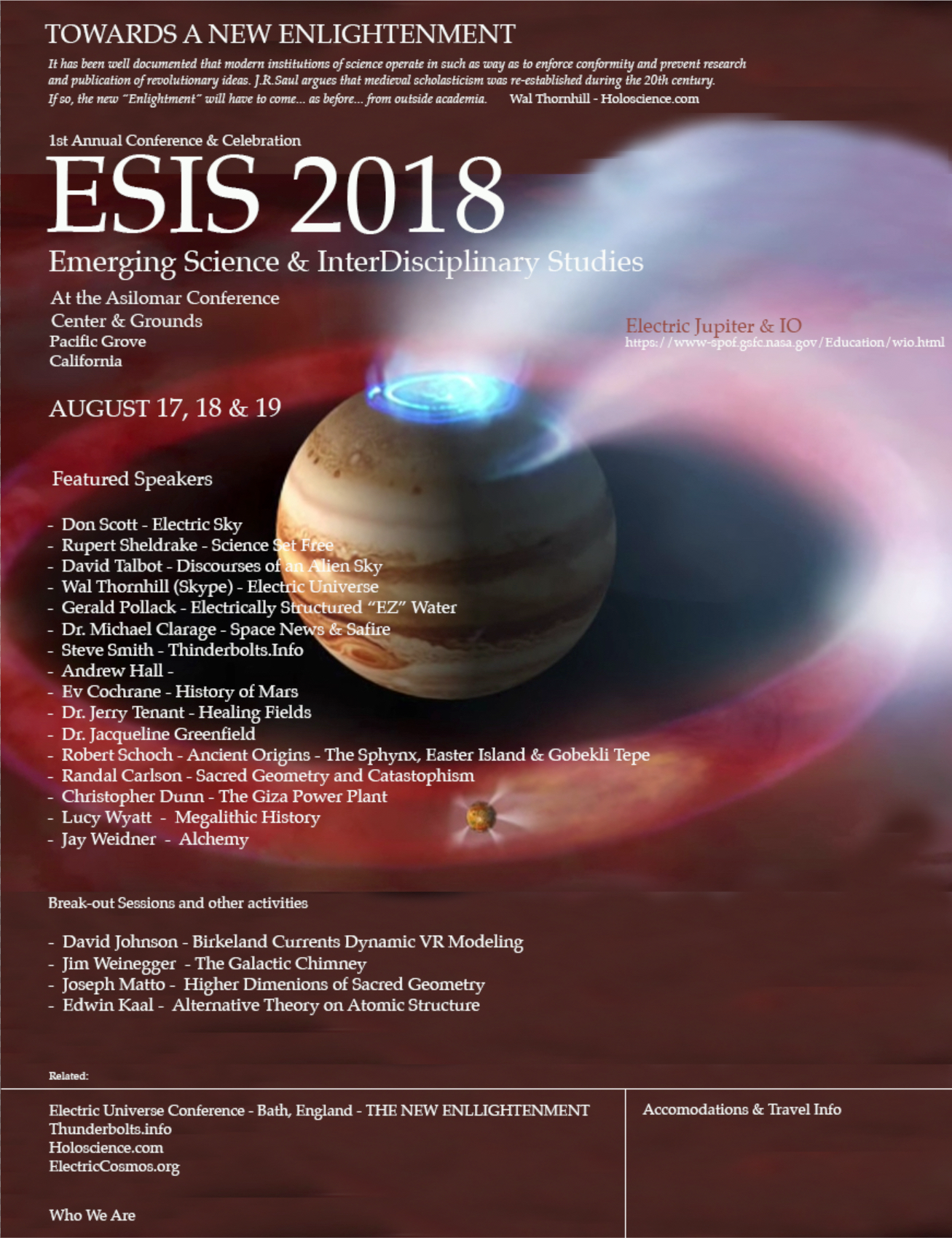 Asilomar Conference Ideas to solidify next week