"Some called the Tetraktys the great oath of the Pythagoreans, because they considered it the perfect number, or even because it is the principle of wholeness; among them is Philolaus.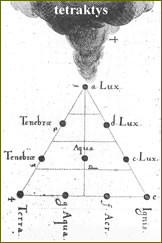 "The number 10 is complete at 4" "To him that gave to our generation the Tetraktys, which contains the fount and root of all eternal nature"
"Arithmetic, geometric, and harmonics were the three principles by which the Divine Artifice proportioned out the world soul"

Number is the first principle, a thing which is undefined, incomprehensible, having in itself all numbers which could reach infinity in amount. And the first principle of numbers is in substance the first Monad, which is a male monad, begetting as a father all other numbers. Secondly, the Dyad is a female number, and the same is called by the arithmeticians even.
Thirdly, the Triad is a male number; this the arithmeticians have been wont to call odd. Finally, the Tetrad is a female number, and the same is called even because it is female. ….
Pythagoras said this sacred Tektractys is: `the spring having the roots of ever-flowing nature.'…. the four parts of the Decad, this perfect number, are called number, monad, power and cube. And the interweavings and minglings of these in the origin of growth are what naturally completes nascent number.