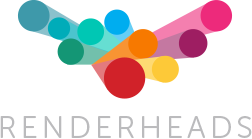 BUILDING THE IMPOSSIBLE
For more than 7 years RenderHeads has specialized in developing beautiful, bespoke interactive software. Our work can be seen in permanent museum installations as well as trade shows, storefronts and product launches all over the world. Recently, we have grown to have offices both in the United Kingdom and South Africa.
Shane Marks
Director (SA) With a background in animation and visual effects, Shane started out as a technical artist with a passion for all things that cross the divide between the creative and technical. This passion led him to head up the South African Branch of RenderHeads. In his spare time he likes to play around with up-and-coming technology, like webGL.
Nathan Lance
Co-Founder & Director (UK) With a degree in Computer Science and programming experience in the games industry, Nathan has a sharp eye for detail and a keen instinct for what will look and feel right. It is his personal mission to make all systems, procedures and workflows as simple and efficient as possible. Despite being a self-confessed geek, due to Nathan's easy going and sociable nature you wouldn't know it if you met him on the street.
Andrew Griffiths
Co-Founder & Director (UK) Andrew started his passion for real-time graphics programming way back on the Commodore 64. He continued through to the PC where he spent many years as a professional games programmer, specialising in gameplay, tools, special effects, animation and 3D engine development. Andrew has a love of digital arts and is a proud and active member of the demo scene.